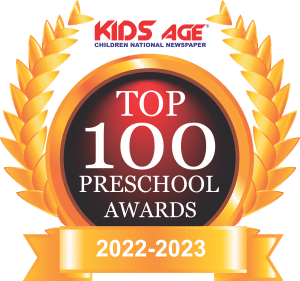 Kids Age proudly announces
EUROKIDS SARGASAN
as the winner of the
TOP 100 PRESCHOOL AWARDS 2022-23 – STATE
best practices and maintaining the highest standards while imparting knowledge.
     Nurturing Young Minds with excellence, Eurokids Sargasan Preschool has emerged as a beacon of quality early education, catering to the holistic development of young minds. With its diverse curriculum and child-centric approach, we set the stage for a strong foundation in a child's learning journey.
     The preschool offers a safe and stimulating environment where children are encouraged to explore, discover, and grow. Experienced teachers foster creativity, social skills, and cognitive development through engaging activities and interactive learning. With a perfect blend of academics, play, and character building, Eurokids Sargasan Preschool ensures that every child's unique talents are nurtured, setting them on a path towards lifelong success.