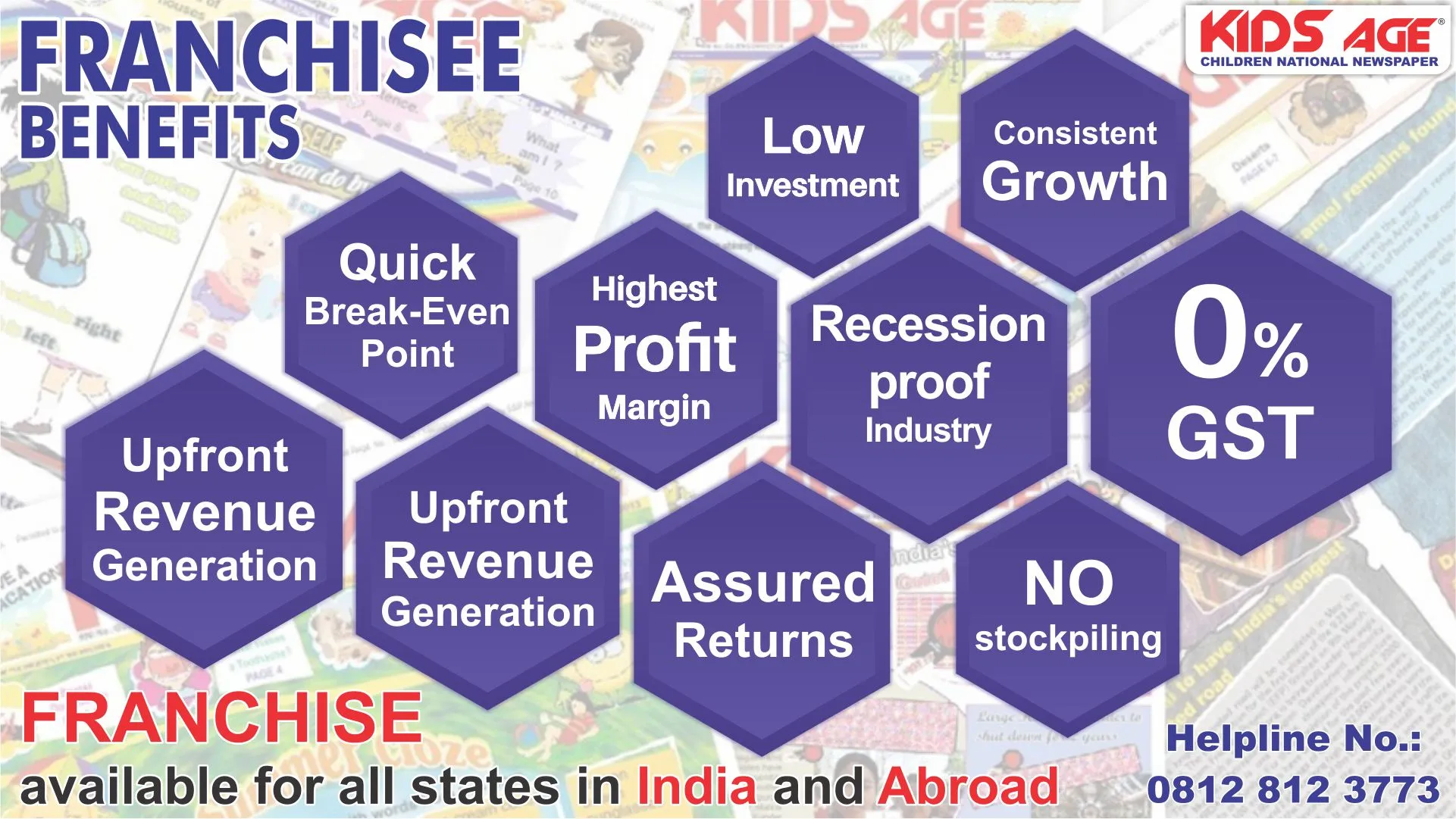 Partner with Kids Age, the best educational sector magazine, and get benefited from our widely distributed network. Fill and submit the given form and you will hear from us at the earliest!
Want to be Financially Independent?
Want to work from the convenience of your home?
Partner with Kids Age!
The most innovative and widest-read Children's Newspaper in India!
Since inception in 2006, Kids Age has emerged as the most recognized and appreciated newspaper amongst the school children.
Inventive techniques to allure kids of different ages, which not only provide entertainment but also impart knowledge, have been one of the key factors of Kids Age's ascent. Harnessing the overall growth of the students in all the fields paralleling all the essential genres of education has been our motto.
Our Newspaper, being student-centric, catering to fun and education needs of the highest possible quality, at a very cost effective/ affordable rate, has made a huge success. Ever increasing popularity has drawn our interest towards offering franchisee.
We are searching for Dealers and Distributors/Franchisees who can sell our bulk subscriptions to school students across India and help us to expand our presence to every school requiring our product.
Our Product:
Kids Age is a monthly newspaper for the students of Indian schools, providing:
All current information relevant to school students
Information related to different schools and their activities
Fun activities, jokes, riddles, stories, and a lot more which contribute to the overall growth of students
It encourages students to interact with others by participating in various competitions organized by KIDS AGE.
It provides an opportunity to students to become a member of KIDS AGE BIRTHDAY CLUB.
It helps the students to choose the career of their choice.
It also provides a platform for teachers, parents, and students to put forward their views and ideas.
It also provides special issues having 3D images with free 3D Glasses, Coded articles with Spy Decoders, Glow in the Dark etc.
Top Reasons to start a Kids Age Franchise:
Low Investment for Dealers/ Franchisee
Upfront revenue generation
Quick Break-Even Point (BEP)
Best Return on Investment (ROI) in the Industry
No sales target
No stockpiling of the product
The varied range of target audience (State board, CBSE, ICSE schools)
Implementation of best trade practices
Relationship Managers for both franchisees and customers
Affordable product
Recession proof Industry
Consistent growth
Limited liability
Ensure repeat business and assured returns
Proven business module
Unique business model focusing on future needs