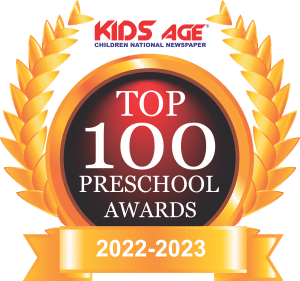 Kids Age proudly announces
SPROUT PRESCHOOL
as the winner of the
TOP 100 PRESCHOOL AWARDS 2022-23 – NATIONAL
best practices and maintaining the highest standards while imparting knowledge.

Our School is like a building block that gives shape to our minds and makes us better human beings. We follow Switzerland IB curriculum integrated with Montessori and CBSE curriculum.
Our vision is to create global citizens through nature, hands-on learning and developing real-life skills. You will see children working independently and in groups, often with specially designed learning materials.
The kids are given the 'right' toys to play with according to their age of development which helps them to develop and learn the things that can be implemented or transferred onto them.
We equally focus on listening, speaking, reading and writing in literacy. We feel at this age development of fine motor skills, gross motor skills, cognitive skills, comprehensive skills and logical thinking skill development is very important.