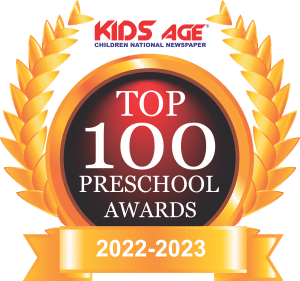 Kids Age proudly announces
POPPINS PRE SCHOOL
as the winner of the
TOP 100 PRESCHOOL AWARDS 2022-23 – STATE
best practices and maintaining the highest standards while imparting knowledge.
About Us
High quality Pre School = Poppins Pre School
Poppins Pre School is one of the best and popular school in our city. Poppins has very beautiful ambience, child safe and hygienic environment. We are providing individual attention to each and every child. We have experienced and well-trained facilitators. It's like our second home.
Research shows that 3-4 years old kids who attend a high-quality Pre-school are more successful in their kindergarten. We are privileged to provide high quality of pre-school education.
Our Vision
Is a community where all children feel loved, respected and encouraged to develop their fullest potential. Our program is planned to promote positive growth in the lives of all children.
We adopt a holistic approach that enables each child to develop their social, physical, emotional and intellectual abilities. We know that each child is unique and special and positive early childhood experiences are instrumental for a child's overall development in later life. Our program will promote and maintain a safe environment that creates an opportunity for children to develop and grow in a positive manner through appropriate role modelling.
Our Mission
Is to provide high quality education and childcare in a safe, respectful and inclusive environment that builds a foundation for life-long learning.
Our Values
Humanism, Creative, Leadership, Quality, Excellence, Innovation, Community, Responsibility and Trust.