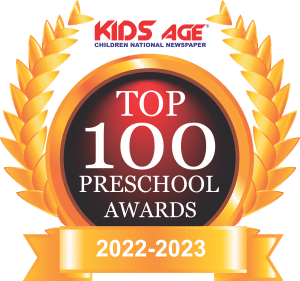 Kids Age proudly announces
7Petals Academy
as the winner of the
TOP 100 PRESCHOOL AWARDS 2022-23 – STATE
best practices and maintaining the highest standards while imparting knowledge.

7Petals Academy was born out of a passion towards young children and as an initiative to give back to the society.

Children are reflections of their early years' environments. We firmly believe that they thrive well when they feel loved and accepted for who they are. Hence Care for the child, Joyful learning and Innovative curriculum has remained at the core of our preschool program. This has paved the way for the holistic development of the child in their foundational years.

Well qualified and experienced educators guide every child at his or her own pace. A commitment towards nurturing young minds coupled with a systematic learning program ensures the child is competent, independent and confident for Grade 1.

A journey which began in the year 2009, the institution has now grown into a fine centre for early childhood education where children learn in a dynamic challenging environment, fostering in them strong moral values and a passion for learning.