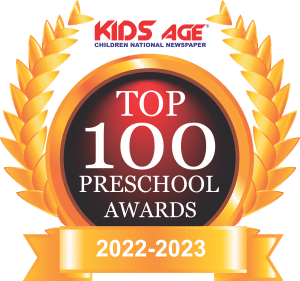 Kids Age proudly announces
PODAR JUMBO KIDS, PRIMEIRO – FRAZER TOWN
as the winner of the
TOP 100 PRESCHOOL AWARDS 2022-23 – STATE
best practices and maintaining the highest standards while imparting knowledge.
Podar Jumbo Kids, the Kiducation Philosophy Early Childhood Center is set up as a research hub in early childhood learning and represents a brand new era of early childhood education focusing on brain development, innovative teaching practices, parental involvement and developmentally appropriate curriculum. Over the years, teaching-learning projects conducted by Podar Jumbo Kids have gained international recognition at early childhood forums, benchmarked against best international practices.

Early childhood education at Podar Jumbo Kids is founded on extensive research and development and global early childhood approaches. We have adopted the EYFS–Early Years Foundation Stage Practice (UK) promoting inquiry and experiential constructive learning, aesthetic and creative development, outdoor learning experiences, science, information and communication technology in the learning and development of children from ages 2 to 6 years.

10 REASONS WHY PODAR JUMBO KIDS IS THE BEST PRESCHOOL FOR YOUR CHILD.
1. Positive emotions enhance memory Hence We ensure that children are always happy, smiling and joyous at Podar Jumbo Kids.
2. Our bodies release harmful chemicals under stress These chemicals are not good for the brain. So no threats, punishments or excessive competitions at Podar Jumbo Kids. Every child is a winner.
3. Diet activates memory So we have a daily menu for snack time. And no wafers, or soft drinks at Podar Jumbo Kids….
4. Learning about something within a meaningful context increases memory So at Podar Jumbo Kids children touch, see, feel and learn.
5. Novelty boosts memory So puppets and other fun aids are used by mentors at Podar Jumbo Kids.
6. Small muscle exercise stimulates brain growth So scissoring activities, sand play and water play are important activities at Podar Jumbo Kids.
7. Cross lateral movements keep both sides of the brain working So balancing, creeping, crawling and climbing are a part of the everyday activities at Podar Jumbo Kids.
8. Memory increases by revisiting information frequently So every topic is taught in multiple styles at Podar Jumbo Kids such as dramas, stories, puppets, worksheets and projects.
9. Aromas and colors also stimulate mental alertness and memory So all our activity rooms have aroma fresheners and each activity rooms is a visual treat of pictures and colours at Podar Jumbo Kids.
10. Exercise boosts brain power Hence music and movement, parachute play and outdoor activities are part of the everyday activities at Podar Jumbo Kids.
Unique Activities at our school
The early childhood programs at Podar Jumbo Kids are designed to give children the correct stress-free environment, personal attention and scientifically formulated schedule of activities to nurture their growing brains. Appropriate socio-emotional care is given to each child to help him develop the right inter- and intra-personal intelligence.

Motor Skills Development
* Water Play – aids fine motor development and fulfils relaxed exploration needs.
* Sand Play – develops hand-eye co-ordination, tactile experiences and exploration


Social and Emotional Development
* Parachute Play – to develop both fine and gross motor skills, and enhance listening skills pro-social behaviour and the ability to follow instructions. Nurtures pro-social behaviour skills.
* Yoga – helps children relax, rejuvenate, and indulge in fun and frolic

Language and Literacy
* Readers Make Leaders – a reading corner for your child that holds a number of international children's books so your child can spend his time productively.
* Glenn Doman Reading – an internationally acclaimed, time-tested method to develop your child's sight-reading skills.

Numeracy
* Block Play – assists in enhancing recognition of colors, shapes, sizes and weight. Helps enhance eye – hand coordination, sequencing, sorting skills.
* Role Play – helps children to understand the world, their family, people who help them and aid them in understanding the roles that people play and will also develop a child's growing symbolic play which will help him with literacy, numeracy and other essentials.

Discovery of the world
* Drama/Elocution – give your child confidence and help in expression skills.
* Puppet Shows – engage all 9 intelligences. They expose children to essential language skills, promote thinking skills, engage them in listening to language, and develop essential resolution skills. They are an apt component of our early childhood development.

Creative and Aesthetic Expression
* Art Exploration – with activities like painting, collage, drawing, clay art, spray paint painting, tissue art .