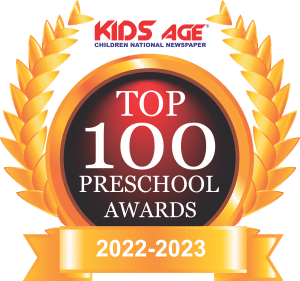 Kids Age proudly announces
EUROKIDS TRAGAD
as the winner of the
TOP 100 PRESCHOOL AWARDS 2022-23 – STATE
best practices and maintaining the highest standards while imparting knowledge.

"With the vision, He who opens a School Door, opens a window of wisdom", the foundation of EuroKids Tragad was laid down in year 2021.
At EuroKids Tragad the goal of early childhood education is to activate the child's own natural desire to learn as it is the key to the betterment of society. We clearly understand that The First Six years have so much to do with how the next 80 turn out. We imbibe the best platform of high-quality early education. We follow the mindful curriculum "EUNOIA"- an activity and learning-based program which leads to the holistic development of the child as Educating the Mind along with the body & soul is the real essence of education.
Education is not for comfort , it's for liberation. The teaching and non-teaching staff are highly qualified, trained, loving and caring, thus creating a home-like environment at school; behind the parents stands the school , and behind the teacher the home.
We don't prepare the path for the child, we prepare the child for the path as Today's Reader is Tomorrow's Leader.