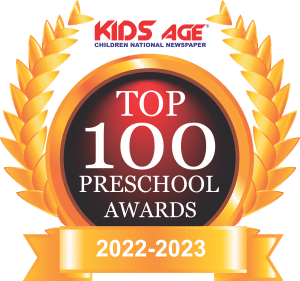 Kids Age proudly announces
WHIZ JUNIORS PLAY SCHOOL & PRESCHOOL
as the winner of the
TOP 100 PRESCHOOL AWARDS 2022-23 – NATIONAL
best practices and maintaining the highest standards while imparting knowledge.

Whiz Juniors Play School, affiliated with the Government of Tamil Nadu, has been recognized with a prestigious award for its exceptional contributions to early childhood education. Over the course of seven years, the school has embraced the play-way method and activity-based learning, nurturing a love for learning and fostering holistic development in its young students.

The school's vibrant atmosphere is enhanced by numerous celebrations that teach children about different festivals, colors, and events, promoting cultural awareness and respect for diversity. With a team of experienced and dedicated staff, Whiz Juniors ensures that each child receives personalized attention, addressing their unique needs and interests.

The institution's commitment to excellence extends to its Annual Day celebrations, where outstanding teachers are honored for their innovative teaching practices, while students are rewarded for their achievements. Whiz Juniors offers cognitive activities daily, stimulating critical thinking and problem-solving abilities in its students.

In addition to academics, the school places a strong emphasis on communication skills, teaching students effective verbal and written expression. The success of Whiz Juniors is evident in its students' performance in interviews and admissions to top schools in Chennai.

Parents speak highly of the school, impressed by the nurturing environment and enriching curriculum that have proven beneficial for their children's development. Whiz Juniors Play School remains dedicated to empowering young minds and preparing them for future success in both academic and personal spheres.