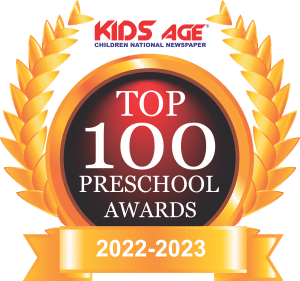 Kids Age proudly announces
LITTLE ANGELS SCHOOL
as the winner of the
TOP 100 PRESCHOOL AWARDS 2022-23 – NATIONAL
best practices and maintaining the highest standards while imparting knowledge.

Pioneering Early Education


At Little Angels School, we have embarked on a remarkable journey that has transformed preschool education in our town. By embracing the dynamic and child-centric play way method, we have redefined the way young learners explore and thrive.
Our unwavering commitment lies in providing exceptional care to our cherished children. Through thoughtfully designed play-based activities, we unlock their limitless potential, nurturing creativity, critical thinking, and a lifelong love for learning.

But our dedication doesn't stop there. We understand the profound impact of strong parent-teacher collaboration. We value the importance of open communication, regular parent-teacher interactions, and empowering workshops. By fostering a harmonious partnership, we ensure that our little learners receive not only an outstanding education but also the unwavering support and guidance they need.

At Little Angels School, we have truly transformed early education, creating an immersive and stimulating environment that celebrates each child's uniqueness while strengthening the profound bond between parents and their little ones.