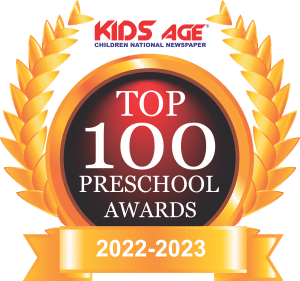 Kids Age proudly announces
WHIZKIDS INTERNATIONAL PRE SCHOOL
as the winner of the
TOP 100 PRESCHOOL AWARDS 2022-23 – NATIONAL
best practices and maintaining the highest standards while imparting knowledge.

At Whizkids International Pre School, we are ourselves as a learning community and we explore where one works together on behalf of the children on order to maintain a happy and caring ethos in children can achieve high standards of successful learning for life

Our Vision: Nurturing young minds to build self – esteemed individuality, a healthy lifestyle and value system by creating a happy, caring & stimulating environment where child can develop a love for learning. Our focus is to provide a stimulating early learning & child care experience which promotes each child's social, emotional, physical & cognitive development.

Our Mission: Positive, Inspiring, Creative, Energising and Enlightening are the words that form the corner stones of Whizkids International pre school's mission and philosophy. With a mission we lay a strong foundation for learning & discovering the hidden potential of each child. At Whizkids we believe that each child is unique with an infinite potential!