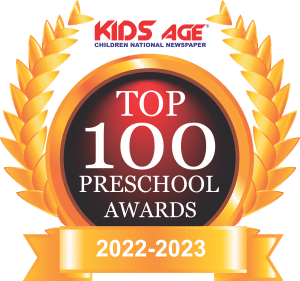 Kids Age proudly announces
GOLDEN INTERNATIONAL PRE-PRIMARY SCHOOL
as the winner of the
TOP 100 PRESCHOOL AWARDS 2022-23 – NATIONAL
best practices and maintaining the highest standards while imparting knowledge.
Golden International Pre-Primary School is located in Indore, Madhya Pradesh. It is a multi-storied, air-conditioned campus which aims to provide children with a strong foundation for their future academic success, help them develop important social and emotional skills and promote their cognitive development.

The activities are especially designed to help children develop their gross and fine motor skills, improve their language and communication abilities and exercise their creativity too, ensuring a holistic development of the child.

Above all, Our passionate and dedicated staff builds a warm and comforting environment for the children thus making the school a home away from home.