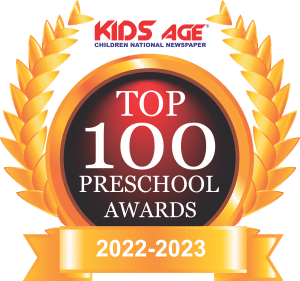 Kids Age proudly announces
EUROKIDS NARANPURA
as the winner of the
TOP 100 PRESCHOOL AWARDS 2022-23 – STATE & NATIONAL
best practices and maintaining the highest standards while imparting knowledge.

Discover EuroKids Naranpura, a prestigious pre-school located in Ahmedabad, renowned for its innovative approach to early learning.

Guided by Principal Dr. Saloni Saraf, the school ensures regular parent involvement through orientation sessions, festive celebrations, and the EuroKids Parent Connect Mobile App, keeping families up-to-date on their child's progress.

Safety is paramount at EuroKids Naranpura, confirmed by its 100/100 score from the international certification agency, Bureau Veritas S.A. With 200+ 5-star Google reviews, the pre-school excels in blending education with fun using "Playway & Montessori" pedagogy.

Contact Dr. Saraf at lohiasaloni31@gmail.com or visit the website for more information.