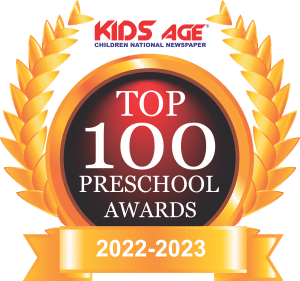 Kids Age proudly announces
MORNING STAR PRE-PRIMARY SCHOOL
as the winner of the
TOP 100 PRESCHOOL AWARDS 2022-23 – NATIONAL
best practices and maintaining the highest standards while imparting knowledge.

Morning Star Pre-Primary School is a school that enables children to shine through a host of learning experiences. We have had our humble beginning at small premise in Vasai and today we have two centers. We offer quality education for children. We nurture them through a Thematic Learning programme that meets the requisite learning objectives for the early learners. We have a set of passionate educators team that create a joyful learning environment. Our curriculum is blend of the Value based curriculum that focuses on developing the inner core of children.

A happy school where child express themselves through Speaking Tuesday forum. We develop their Public Speaking & Social skills.

Currently Morning has two centers, a tutorial center and it also owns a Soft skill academy CESA. We strongly believe in this mantra, Follow your passion and it will lead you to a purpose. Our founder has collaborated and trained more than 1000 teachers throughout the globe in evaluation, assessment, fine motor skills, Phonics, storytelling and helped many schools with curriculums.

A visionary leader who believes ; "to teach is to touch lives forever"