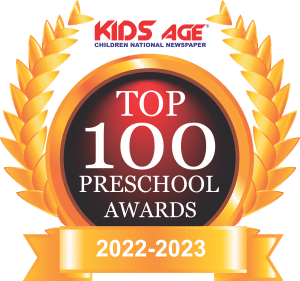 Kids Age proudly announces
KIDZEE PRESCHOOL
as the winner of the
TOP 100 PRESCHOOL AWARDS 2022-23 – STATE & NATIONAL
best practices and maintaining the highest standards while imparting knowledge.

Kidzee Pallikaranai is a popular choice for kids and parents in the area. Kidzee has always valued its students as an integral part of a society and focuses on holistic development.

Kidzee understands that for a well-rounded development of a child, aspects like cognitive skills,
discipline, self-control, social and soft skills are as essential as the ability to comprehend
academia and score marks.

As an indicator of success, Kidzee has primarily grown and expanded through word of mouth.
Furthering kindergarten and nursery, Kidzee has expanded its wings and introduced Primary
Schooling as well – Grades 1 and 2.
You've brought your children to the world. We at Kidzee can't wait to bring the world to them.