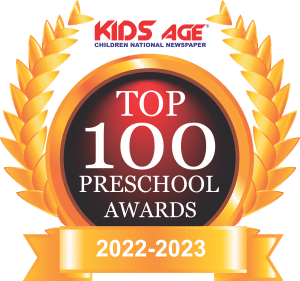 Kids Age proudly announces
PRIM BUDS GARDEN
as the winner of the
TOP 100 PRESCHOOL AWARDS 2022-23 – STATE & NATIONAL
best practices and maintaining the highest standards while imparting knowledge.
ABOUT SCHOOL
Prim Buds Garden School is a learner-centric institution intended to develop unique potentials of each student to face the challenges in life. Prim Buds Garden School was started in the year 2015 with a clear determination to provide an expressive learning experience in a safe, secure, thought-provoking global environment. Guru Krupha charitable trust manages all the schools with a solitary motto to bring a significant positive change in humanity among mankind and in socio-economic status of the society. Prim Buds Garden students are motivated to develop their self-confidence and flexibility along with academics to develop themselves as responsible and ethical human being.
MESSAGE FROM THE FOUNDER AND DIRECTOR
We believe that every child is endowed with a unique set of attributes and abilities, which need to be nurtured so that they blossom. The core purpose of education is to provide children with a learning environment which brings out the best in them. Therefore, every child deserves an education that promotes academic excellence  and all round development to ensure their well-being. We are inspired by these tenets in everything that we do at Prim Buds Schools. At Prim Buds, we provide a learning environment that inspires and motivates children, and encourages them to explore limitless possibilities in their quest for knowledge. Since inception, our  overarching goal is to make prim buds school as a place for joyful learning.