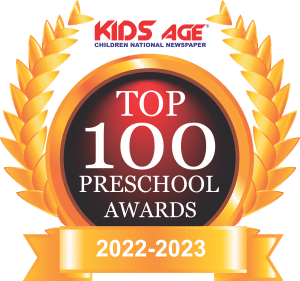 Kids Age proudly announces
AURA INTERNATIONAL PRESCHOOL (SAMA)
as the winner of the
TOP 100 PRESCHOOL AWARDS 2022-23 – NATIONAL
best practices and maintaining the highest standards while imparting knowledge.

Our Vision is to build a vibrant learning community with a strong foundation of knowledge, skill and attitude of young learners for their next step in life.

We have an experience of 15 years in early years. We have nurtured more than 5000 children since 2019.

Our programs include playgroup, nursery, jr kg and sr kg. We also have a full day daycare centre. Creating a second home for children through Pre-Schools, where they are nurtured with affection, care, responsibility and happiness• Developing a comprehensive learning environment for every child• Imparting thorough knowledge to parents, about the total development of their children.