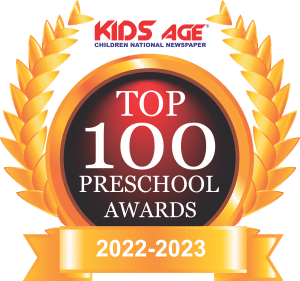 Kids Age proudly announces
THE NEST PRESCHOOL
as the winner of the
TOP 100 PRESCHOOL AWARDS 2022-23 – STATE
best practices and maintaining the highest standards while imparting knowledge.
Nest Preschool is an essential educational setting for children before they enter formal schooling. Designed to bridge the gap between home and preschool, it fosters children's social, emotional, cognitive, and physical development and hands-on experiences promote learning.
Children at The Nest Pre School develop language, problem-solving and creativity skills in a nurturing environment, by stimulating curiosity and promoting individual growth, qualified teachers facilitate learning through age-appropriate curriculum. Early literacy and numeracy skills, art, music, physical education, and social skills development are all part of our curriculum. In addition to a Montessori section, an audio-visual room, an organic farming section, a dining room, and a spacious play area is architecturally designed within the premises. Additionally, it fosters a sense of belonging and community among students and teachers.
Ultimately, The Nest Pre School plays a significant role in a child's early development, and providing a solid foundation for lifelong learning.