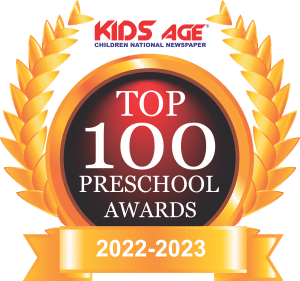 Kids Age proudly announces
TUBBY TALES EDUCATION
as the winner of the
TOP 100 PRESCHOOL AWARDS 2022-23 – STATE & NATIONAL
best practices and maintaining the highest standards while imparting knowledge.

Early childhood educators have one of the most rewarding and difficult jobs. They are in charge of preparing young minds for the challenges and opportunities discovered as they embark on their educational careers.

There is a surprising amount of debate surrounding the topic of early childhood education. Many people question how much formal learning is necessary or beneficial for very young children.

Studies show that high-quality education early in a child's life leads to continued success later in school, at work, and leads to better well-rounded emotionally and socially. This article also points out that spending resources toward education earlier in life is much more fiscally responsible than paying later to help a struggling child catch up.

So, at Tubby Tales Education we prepare the child as 'Today's Learner, Tomorrow's Leader.'