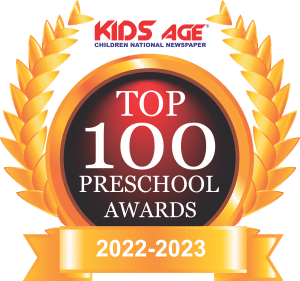 Kids Age proudly announces
SMART HIPPO PRESKOOL THOOTHUKUDI
as the winner of the
TOP 100 PRESCHOOL AWARDS 2022-23 – STATE
best practices and maintaining the highest standards while imparting knowledge.

The preschool years are an exciting time for young children and also the time for vast developmental growth. Keeping this in mind, our school strives to spark the creativity in each child and help the child discover new experiences.

We have been incorporating innovative pedagogy and encouraging the children to become active participants in their learning, through experience and exploration of hands-on materials.

Sensory activities, hands -on activities, fine and gross motor activity, music, dance, yoga, STEM, Non-fire cooking, sand play and water play are part of our activities. Our school also focuses on building a strong foundation in social and life skills.

We not only want our students to be seekers but also Great Thinkers and Creators.

-Founder Ms S. Narmadha, B.Arch, PGDPTT, DCP