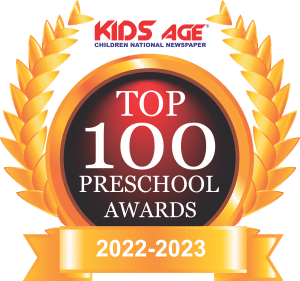 Kids Age proudly announces
RIVENDALE EARLY LEARNING CENTRE
as the winner of the
TOP 100 PRESCHOOL AWARDS 2022-23 – STATE & NATIONAL
best practices and maintaining the highest standards while imparting knowledge.
Alis Volans Propriis which means "Flying on our own Wings" is the motto of Rivendale.
     We take pride in designing our enhanced global curriculum called the Rivendale Early Learning Framework (RELF). It is based on the ideas of 'question everything" and "emotional learning."

     This curriculum was designed by our Academic Advisory Panel which constitutes of academicians from across the world who share an academic legacy of over 350 years. Their collaborative efforts led to the development of this exceptional customized programme which is an amalgamation of the best global practices in the area of early childhood education. Additionally, this programme pays special attention to the individual needs and strengths of each child.
     Our early learning care providers and educators are well trained, qualified and experienced. Apart from this they undergo rigorous training and orientation programmes devised by our Academic Advisory Panel. They have a high sense of commitment and dedication towards making every child a competent and confident individual.
     Rivendale Schools are committed to nurturing competent individuals who are well-prepared for their next stages of development. They provide safe, hygienic, clutter-free, and aesthetically pleasing environments designed to be reminiscent of a home, where children learn practical life and self-help skills, and are allocated personal storage spaces.
     These environments feature materials labeled for organization and well-defined areas within classrooms to encourage social interactions and exploration. Natural and wooden toys are prominent, and outdoor activities are encouraged in all weather conditions. Collaboration and cooperation are fundamental to the Rivendale Early Learning Framework, fostering strong social bonds.
     Our approach is informed by a blend of early childhood theories, child development knowledge, and extensive experience in diverse learning settings. Sensory learning is a core principle, encompassing practical life, sensory education, and language activities. A consistent routine promotes predictability, granting children more control. The "strategize, execute, assess" model encourages planning, task execution, sharing with the classroom community, and material organization through color-coded labels. Rivendale Schools prioritize holistic child development within aesthetically pleasing, organized, and collaborative learning environments.
     We have daycare, playgroup, preschool, kindergarten, as well as online preschool and teacher training.
     We are associated with various prestigious organizations like ECA, APER, Project Green Schools, International Montessori Society, NAEYC and UN Sustainable Goals.
Visit our website www.rivendaleschools.com for more information.