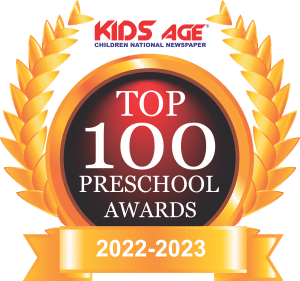 Kids Age proudly announces
MARY HELLO KIDZ SCHOOL
as the winner of the
TOP 100 PRESCHOOL AWARDS 2022-23 – NATIONAL
best practices and maintaining the highest standards while imparting knowledge.
     Pioneering the BrainExcel Program for Premier Education, we are thrilled to announce that Mary Hello Kidz School has been honored with the prestigious "KidsAge Top 100 Preschool Award" in India. This accolade underscores our commitment to delivering premier education, with a particular focus on our innovative BrainExcel Program designed to empower young minds.

At Mary Hello Kidz School, we recognize that early childhood education is the foundation of a bright future. Our BrainExcel Program is a cutting-edge initiative aimed at nurturing cognitive development, critical thinking, and problem-solving skills in children. We believe in fostering a love for learning from the earliest years. Our comprehensive curriculum, enriched with BrainExcel, provides an environment where children are encouraged to explore, question, and create. We strive to ignite their curiosity, laying the groundwork for lifelong learning.
     The BrainExcel Program is a blend of interactive, hands-on activities and age-appropriate technologies. It's meticulously designed to stimulate intellectual growth, enabling children to excel academically and develop the skills they'll need in an ever-changing world.
     We are honored to be recognized by KidsAge for our commitment to excellence in early childhood education. Mary Hello Kidz School is dedicated to shaping bright, inquisitive minds and nurturing the leaders of tomorrow through our BrainExcel Program.
     Join us at Mary Hello Kidz School, where your child's journey to intellectual excellence begins.