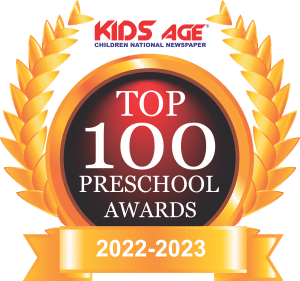 Kids Age proudly announces
KIDS WONDERLAND PRESCHOOL AND DAYCARE
as the winner of the
TOP 100 PRESCHOOL AWARDS 2022-23 – STATE & NATIONAL
best practices and maintaining the highest standards while imparting knowledge.
     Kids Wonderland Preschool and Daycare is unique, where children grow and develop while playing, listening, and reading. Here they move from dependence to independence, from shaky co-ordination to refined skills, from body language to verbal communication, from self absorption to growing social awareness.
     Our environment is child-friendly, harmonious, focusing on child's inquisitive mind and thorough concept clarity.
     Our aim is to unleash the potential of the child and open the door of all future possibilities for the child by giving our love, care, special training and early childhood education using most effective learning methods providing healthy environment, leveraging the most advanced teaching technology & tools and drawing supports from the best of preschool trained teachers.
     Kids Wonderland is an institution who believes each and every child is precious, an angel and we give an equal opportunity to all the kids for their development and growth. Our emphasis on child's well- being and development, in close coordination with parents makes KWPD one of the best preschool. We work with an ardent zeal to achieve this for an all round development of the children. We offer freedom to child to choose, to speak, to ask, to move and to play as per their own pace of development and likings.