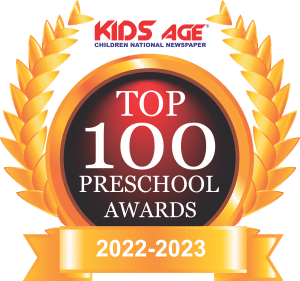 Kids Age proudly announces
JMS WORLD SCHOOL
as the winner of the
TOP 100 PRESCHOOL AWARDS 2022-23 – STATE
best practices and maintaining the highest standards while imparting knowledge.

Dr Ayush Singhal, the Managing Director of JMS World School is ensuring to provide quality education to the learners, the school has a holistic system, including that of assessment of students learning in multiple ways. It has been created to serve as a healthy combination of assessments and also for the physical and emotional readiness of the child to learn.

How the practices followed at JMS World School nurture each student's inherent potential and talent?
School Learning System is designed to ensure that children get ample opportunities to discover their inherent capabilities and talents and hone them. The skill-based learning activities and the child-friendly and versatile assessment activities allow children to demonstrate their learning in a variety of presentation styles – through role plays, through making models, posters, through making oral presentations, or through puzzles and games. All these help children to discover their latent natural skills, but also to apply them to learn better.

What is JMS Learning System all about?
The JMS Learning System is a multifaceted learning system that is based on the principles such as:
Skill Based – Students during the course of learning build subject specific skills and thus they acquire a thorough understanding and mastery of concepts
Sequential – The teachers guide the students to construct their learning sequentially as they move from the known to the unknown
VAK based – In JMS we believe that children learn best when they are exposed to learning in their learning style (Visual, Auditory and Kinesthetic). JMS ensures that children are taught according to their learning style
Mapped to Developmental Milestones – We understand that children at different age groups have different learning needs and capabilities and hence our curriculum approach is mapped as per the age of the child. For our pre-primary learners we follow the play way approach, for the primary learners we have an activity and project-based learning methodology, to challenge our middle-school learners and to harness their developing cognitive capabilities, we follow the brain-based methodology and for the senior school learners the methodology evolves around developing higher order thinking and decision- making skills.

THE MISSION OF THE JMS WORLD SCHOOL IS TO NURTURE A CULTURE WHERE STUDENTS ARE VALUED AS INDIVIDUALS AND ALLOWED TO EXPLORE THEIR CREATIVE TALENTS.