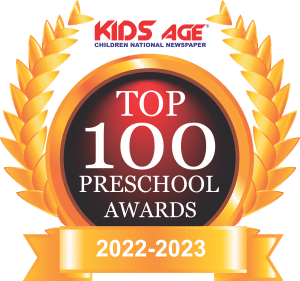 Kids Age proudly announces
HELLO KIDS GENIUS PRESCHOOL & DAYCARE
as the winner of the
TOP 100 PRESCHOOL AWARDS 2022-23 – NATIONAL
best practices and maintaining the highest standards while imparting knowledge.
Hello Kids Genius Preschool was established in Chittoor under the Management of Little Rose School (Trusted Since 1986) led by the Young Director Dr. BLV Lohith Kumar, a passionate Edupreneur who has been recognized with the International Education Award, Delhi, & Young Leadership Award, Bangalore.
We Hello Kids Genius Pre-School located at Chittoor, Andhra Pradesh, provide a safe, stimulating, and caring environment for children ages 1.5 to 6 years. Our focus is to provide an encouraging experience, promoting social, emotional, physical, and cognitive development.
Hello Kids provide the curriculum that promotes independence and exploration, provide both structured and free time, and involve all aspects of a child's development through hands-on experience. Our goal is for parents to feel good about their childcare choice, and that the children are safe, engaged, happy, and smiling.
We want these children to warmly look back at their experience with us, and see it as a cherished part of their childhood.
Why Hello Kids?
* Trained, Certified & Friendly Staff
* 10:1 Student to Adult Ration
* CCTV with Audio Recorded – Monitored Class Rooms
* Researched, Structured & Age appropriate – Montessori Integrated Curriculum
* Zero Fee Financing Facility with Easy Branch Transfer process & many more . . .
In its early stages, Hello Kids Genius PreSchool has received a great appreciation from parents and within the community as well. Due to great efforts from the team, Hello Kids Genius PreSchool has been awarded with
'Innovation in Early Learning' Award at ECA Conference, Hyderabad : 2022
'Top 100 PreSchools of India' Award at Brainfeed Expo, Hyderabad : 2023
Hello Kids. . . Shaping Child's Dream for the Future