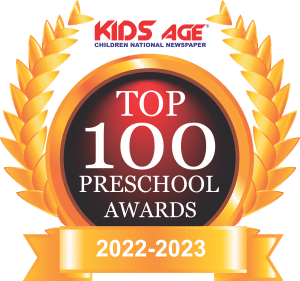 Kids Age proudly announces
FIRST STEP MONTESSORI HOUSE OF CHILDREN
as the winner of the
TOP 100 PRESCHOOL AWARDS 2022-23 – STATE & NATIONAL
best practices and maintaining the highest standards while imparting knowledge.
     First Step Montessori School was started in April 2014 to provide the right type of education for children between 2 ½ and 6 years. The school has adopted the Montessori approach to education for its sound educational principles. It is run by Anuradha Gurusamy who holds an International Diploma in Montessori studies awarded State Rank Holder by International Accreditation Organization (IAO), an organisation in the USA.
     It offers a clean environment for children to work and learn through exploration. The stimulating environment helps the children to actualise their latent talents and achieve their full potential. Value based education, introduction of our culture through celebration of festivals, personal attention and close monitoring of the child's progress are the special features of the school. First Step owes its success to the encouragement of the parents who are convinced that the 3 year Montessori programme offers meaningful education to their child.