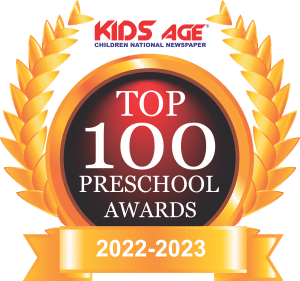 Kids Age proudly announces
EUROKIDS NEW CHANDKHEDA
as the winner of the
TOP 100 PRESCHOOL AWARDS 2022-23 – STATE & NATIONAL
best practices and maintaining the highest standards while imparting knowledge.

EuroKids IOC Road – New Chandkheda was established in 2016 by Mrs Jigna Barevadia, MBA in Finance by Education and an Ex-Banker by profession, who turned her passion of nurturing and interacting with tiny tots using world class education delivery methods and infrastructure. As a part of this goal, she associated with the top pre-school education brand in India "EuroKids" which complemented her vision of providing highest standards in pre-school education.
During the past 8 years of operations, EuroKids IOC Road – New Chandkheda has nurtured over 1050 tiny tots and is aiming to grow into a full-fledged K12 institution going forward. We practice a zero tolerance policy as regards safety and hygiene of our tiny tots as well as our school infrastructure.

At EuroKids IOC Road, our team of educators and researchers have defined our own child-centric approach to preschool education. Our goal is to enable tiny tots to construct their own meaning, to have a strong sense of identity, and to be creative, resilient, and inquiry driven citizens. As part of our program, children are given the tools and support to steer through their own distinct paths of discovery. Our pedagogical philosophy is inspired by international best practices in early years education. Teachers wear many hats. They are designers, facilitators, role models, and most importantly, loving and nurturing individuals. They encourage child initiated activity and challenge and provoke ideas through open-ended questions.