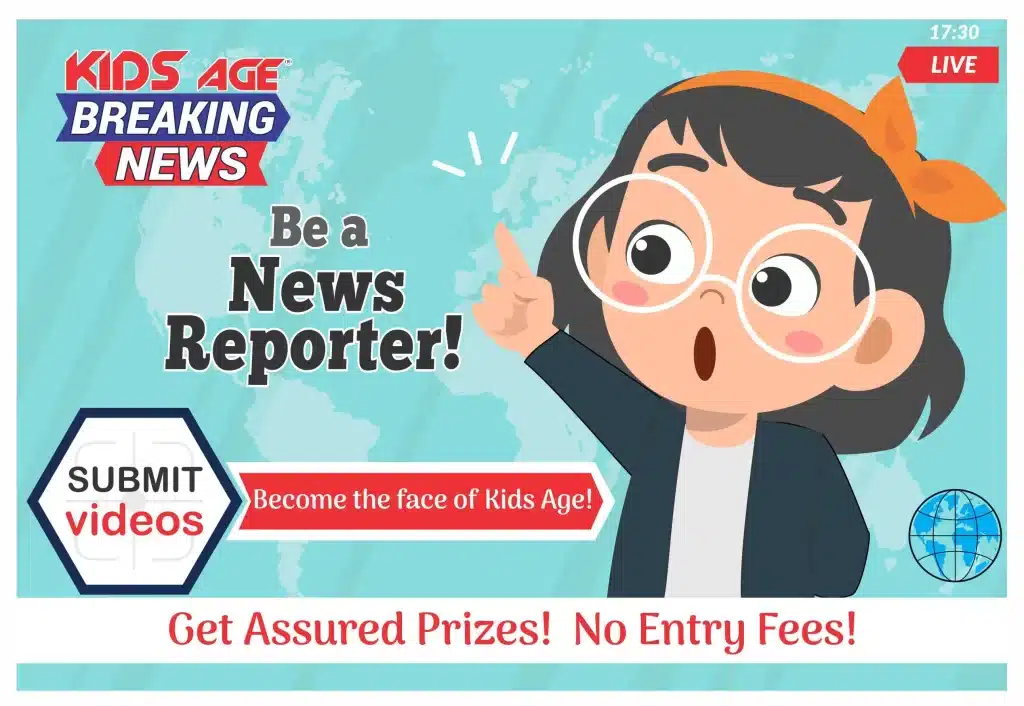 Kids Age is looking for young newsreaders amongst you kids in our upcoming 'Breaking News' Contest. We invite you to showcase your news-reading skills and become the face of the Kids Age News; the news for and by children.
STEPS TO FOLLOW:
Select your favourite topics from any of the sectors (Sports, Nature, Discoveries & Inventions, Entertainment, etc.), prepare the video of yourself reading the news like an ace news anchor for about two minutes.
Upload it on your Facebook and Instagram accounts, and
Submit it to us by clicking on the 'SUBMIT NEWS VIDEO' tab below with your complete details like Name, Age, Subject of the News, Class, School, City and State along with Contact number and Email address.
NOTE: Tagging of videos is the most important thing. Once you upload your videos on your Facebook and Instagram pages, you need to tag Kids Age
Your video would be reviewed and judged by our experts on the basis of subject, sound and video quality, language & fluency, presentation skills. Selected contestants will receive gift and certificate, and their videos shall be published on Kids Age's Facebook page.
Submissions can be made in any of the languages.
Videos are to be uploaded onto your own Facebook and Instagram pages. Once you upload your videos, you need to tag Kids Age on the following URLS:
Video should be exclusive for the contest and should not have been published anywhere.
The introduction has to begin with "Hi, this is… from Kids Age Breaking News"
The audio and video quality should be good.
It is an ongoing competition and the contestants can submit multiple videos.
Entries will be disqualified if the content is objectionable or prohibited by law.
All information should be complete. Incomplete information will not be accepted.
The final decision on the selection of videos would be of KIDS AGE.
Any false information provided within the context of the contest by any participant concerning the identity, mailing address, telephone number, etc., may result in the immediate elimination of the participant from the contest.